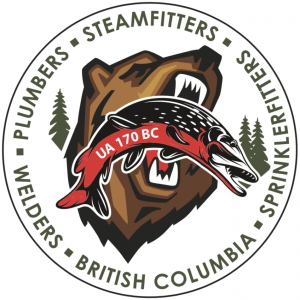 The United Association of Journeymen & Apprentices of the Plumbing & PipeFitting Industry of the US & Canada, Local 170 represents approximately 4,000 apprentices and journeypersons in British Columbia working in the Red Seal trades of: Plumber, Steamfitter/Pipefitter, Sprinkler-fitter, Gasfitter A and B, Instrumentation & Control Technicians, and Welders.
We are a member Local of the United Association which represents 57,000 members in Canada and 340,000 members across North America in the piping trades. Our members play a key role in the construction of all types of facilities (residential, commercial, industrial); all necessary to grow a strong economy.
Our mandate is to promote quality skills and craftsmanship in all our trades; committed to the guiding principles outlined in the UA Standard for Excellence: to uphold the highest industry standards in the workplace; to promote UA members' skills, to promote safe and efficient work practices and to ensure customer satisfaction.
We also provide world-class training programs through the UA Piping Industry College of BC (UAPICBC) offering four year apprenticeship programs, extensive journeyman training,and numerous certification programs.
Our highly trained members maximize the productivity and efficiency of our signatory contractors, allowing them to build their business and grow our economy.